Walking in the Footsteps of Our Foremothers – St. Andrews Medical Dispensary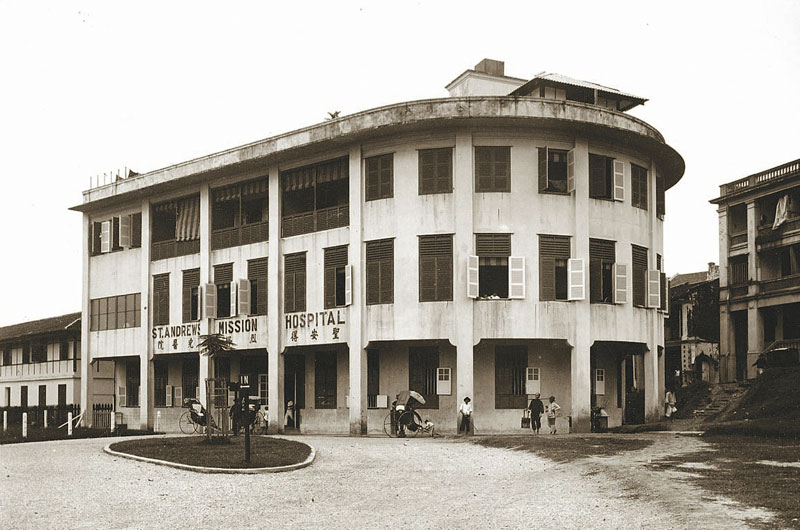 The St. Andrew's Medical Mission at Bencoolen Street was founded in 1913 by Charlotte E. Ferguson-Davie, a medical doctor and missionary who worked in India before arriving in Malaya.
The dispensary catered specially to women and children, as Charlotte observed that Asian women were uncomfortable with seeking treatment from male doctors. For those who could not afford to pay, the services were provided free of charge.
The clinic was so well received that, four months later, a second dispensary was set up at Upper Cross Street. It was later relocated to North Bridge Road in 1917. A third branch at Pasir Panjang was opened in 1915 to serve the Malay Community, but closed shortly later in 1919.
In 1916, the mission pioneered a programme to train women of various nationalities in general nursing and midwifery. The programme grew into a full-fledged three year course by 1922.
In 1923, the mission acquired funds from philanthropists like Mr and Mrs Lee Choon Guan as well as organisations like the St. Andrew's Cathedral to build a three storey hospital at Erskine Road – the St. Andrew's Mission Hospital (SAMH). From there, the hospital developed specialist clinics such as an eye clinic for abandoned blind children, and a venereal disease clinic for women.
In 1954 SAMH appointed Janet Lim as its matron. She was the first local woman to be a hospital matron. In 1958 her best-selling book Sold for Silver, an account of her years as a bonds maid, was published. It was the first local autobiography and first book in English by a Singapore woman.