WOMEN AT THE HELM
Unsurprisingly, there were hardly any women in leadership positions in the 1960s. The push for girls to be educated had only got under way in earnest in the past decade. In 1965, half of Singapore's women were still illiterate. Women were only just beginning to leave the home and kitchen for low-level jobs in factories and offices. A few women were active in politics, but from 1970 to 1984 Singapore's Parliament was all male. The first cracks in the glass ceiling appeared in the 1980s and – slowly – women began to move into senior positions and to head organisations in the private and public sectors.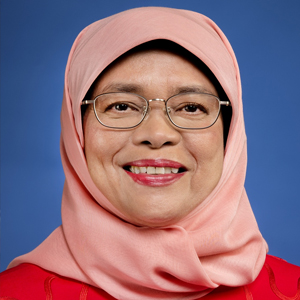 Halimah Yacob
First Woman President of Singapore
Halimah Yacob is a trail blazer. In 2017 she became Singapore's first woman President. This was four years after she became the first woman Speaker of the Singapore Parliament. Trained as a lawyer, she worked at the National Trades Union Congress where she rose to the post of deputy secretary-general. In 2001, she was the first Malay woman elected to Parliament. As a politician she championed the interests of women and workers, and was vocal on issues such as flexible work arrangements and training for older and less skilled workers.
Noeleen Heyzer
Global champion of sustainable development and women's rights
Noeleen Heyzer has dedicated her professional life to the opening of spaces for dialogue and change to advance equity, social justice, and sustainable development for people and the planet. From 2007 to 2014 she was an Under-Secretary-General of the United Nations and the highest ranking Singaporean in the world body. She was the first woman to head the UN Economic and Social Commission for Asia and the Pacific, and before that the first person from the South to lead the United Nations Development Fund for Women.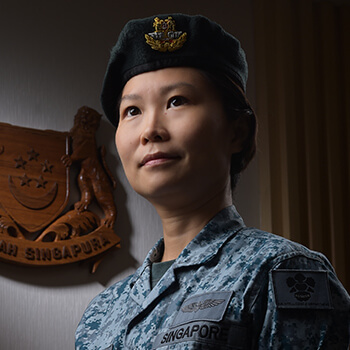 Gan Siow Huang
First female Brigadier-General in the Singapore Armed Forces
In 2015 Gan Siow Huang became the first woman Brigadier-General in the Singapore Armed Forces. This followed a string of firsts in the SAF. In 1993, she was in the first batch of four women to receive the SAF Merit Scholarship to pursue a military career. In 2010, she was the first female military officer to be sent to the Massachusetts Institute of Technology where she got an MBA. In 2016, she took command of Air Power Generation Command, the largest formation in the Republic of Singapore Air Force.