When Singapore became an independent nation in August 1965, women were several steps behind men in pretty much all aspects of life. More than half of the women were illiterate. Only about one in five of working-age women had jobs, and these were mostly low-level, low-wage positions. Family planning was not widespread and the total fertility rate was 4.66, which meant the typical woman was likely to have four to five children. The Women's Charter became law in 1961 and gave women and men equal status in marriage, but in reality women continued to be seen as subordinate beings. Domestic violence, indeed violence against women generally, was common. It was still very much a man's world.
The Gender Gap at a Glance
Figures refer to total population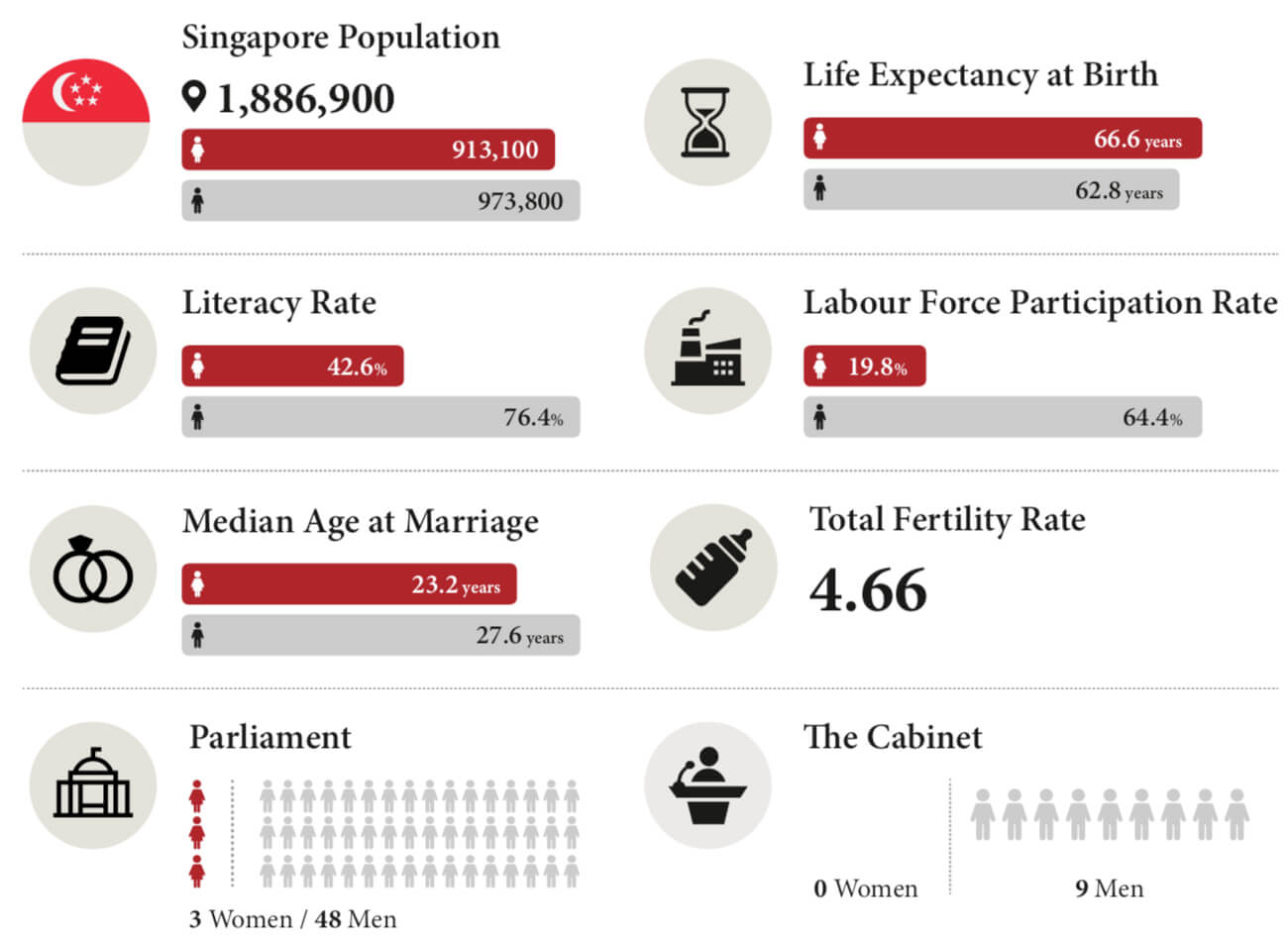 Puan Noor Aishah
Singapore's first First Lady
Puan Noor Aishah became Singapore's First Lady in December 1959, when she was only 26 years old. The shy, soft-spoken wife of Singapore's first locally-born Head of State, Yusof Ishak, more than rose to the challenge. She calmly transformed the character of the Istana, giving it a Singaporean flavour, and she got involved in a host of voluntary organisations and community activities. When Singapore became independent in 1965, she was the perfect 'mother' for the new nation – poised and gracious, humble and charming, dedicated and quietly determined.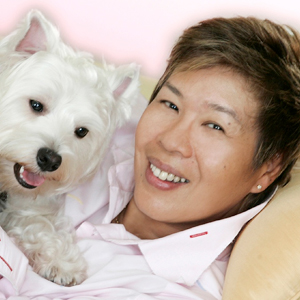 Patricia Chan
Trailblazing swimmer and Singapore's first Golden Girl
Patricia was just 11 when she won each of her eight swimming events at the 1965 Southeast Asian Peninsular (SEAP) Games in Kuala Lumpur, a few months after Singapore separated from Malaysia. As she stood on the winners' rostrum again and again while Majulah Singapura was played, Patricia became a symbol of the newly independent nation: Young, talented, disciplined and determined to succeed. Patricia took part in a total of 39 individual and team events at five SEAP Games – and she won gold in every single race. An unmatched record of pure gold.
Teresa Hsu Chih
One of Asia's most inspiring social workers
Teresa Hsu Chih was born into poverty in China in 1898. In 1915 when her abusive father abandoned the family, they moved to Penang, Malaya. Teresa later returned to China and Hongkong to work. When she was 47, she studied nursing in London, then worked as a nurse in Europe and Paraguay. She returned to Singapore in 1961, and in 1965 she and her sister Ursula used their own money to start the Home for the Aged Sick, a free nursing home for the old and destitute. Teresa died in 2011 aged 113.