They faced boundaries and barriers unimaginable to us today, but they pressed on with their vision and their dreams and they helped to build the institutions and the society that is Singapore today.
The inspiring life stories of some of Singapore's outstanding women are the basis of monthly heritage walks organised by the Singapore Women's Hall of Fame and led by independent tour guide Charlotte Chu.
The three-hour strolls, usually held on the morning of the last Saturday of each month, take participants along Waterloo and Victoria Streets and Stamford Road with Charlotte pointing out various landmarks related to women in the Hall of Fame and telling their stories.
At the National Library, for instance, she talks about how Hedwig Anuar was the first local director of the library, and she points out the section of floor tiles that were saved from the now demolished library building at Stamford Road.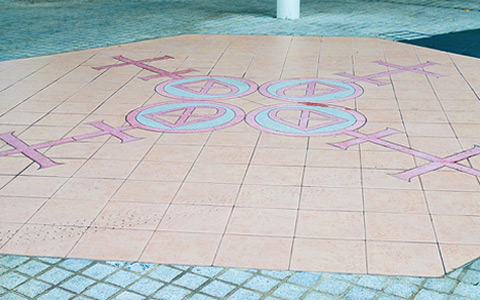 This floor feature outside the National Library was saved when the old building at Stamford Road was demolished
At the YMCA along Orchard Road, she talks about Elizabeth Choy, the war heroine who protected the names of British prisoners-of-war and others that she helped. The YMCA building was during the Japanese Occupation of Singapore in World War II the headquarters of the Kempeitai (the Japanese military police) and Elizabeth Choy was detained and tortured there.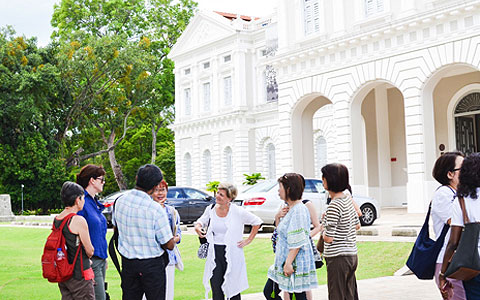 Participants with the tour guide outside the National Museum of Singapore as stories of war heroine, Elizabeth Choy, and sculptor, Han Sai Por are recalled

At the Singapore Management University, where Raffles Girls' School (RGS) once stood, Charlotte points out the original gate of the school, which is all that remains of the historic building. Notably, 14 honourees in the Singapore Women's Hall of Fame were RGS students, including Maggie Lim, who in 1930 was the first schoolgirl in Singapore to win the prestigious Queen's scholarship.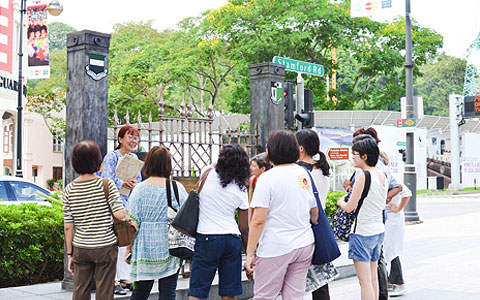 At the Singapore Management University where the original gates of Raffles Girls School still stand, the only remaining bit of the old school

Find out more about the remarkable women in the Hall of Fame and about Singapore's history – join one of our Walking in the Footsteps of our Foremothers strolls around the heart of old Singapore.