One of the oldest girls schools in Singapore, CHIJ Secondary School, marked its 160th anniversary in October 2014 and was glad to include in its celebrations a talk and exhibition about the Singapore Women's Hall of Fame.
Eleven Hall of Fame honourees were either teachers or students at CHIJ schools in Singapore and Malaysia, and these women were paid tribute to during the week-long commemoration.  The profiles of these 11 women were on display at an exhibition.

CHIJ students listen to a talk about the Hall of Fame
Of the 11 alumni, special focus was put on Hedwig Anuar, Noeleen Heyzer and Junie Sng. Students learned about the highlights of their careers as librarian, international diplomat and national swimmer, respectively.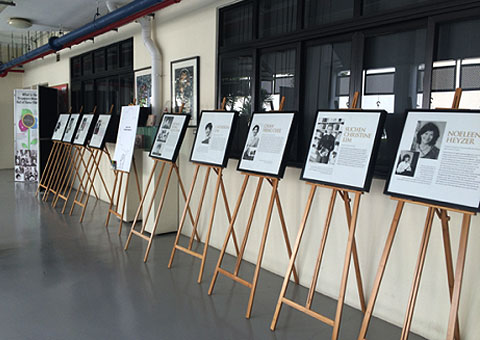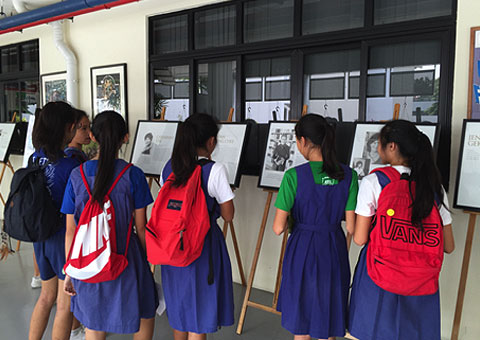 Students checking out the exhibition featuring the 11 honourees from the CHIJ schools
Students were encouraged to share their aspirations on a 'legacy board'. The aspirations penned included being a "woman of distinction" and "someone else's role model".

The heartfelt aspirations left by the students on our 'legacy board'
The students were asked for their views about the Hall of Fame:
"After listening to the talk and visiting the exhibition featuring old girls of IJ who have been inducted into the Singapore Women's Hall of Fame, I felt a strong sense of inspiration and confidence. This whole experience has made me realize that all women can achieve anything, as long as they have the will and passion within their hearts to chase their dreams fearlessly."
– Stacey Gan, Sec 3
"The Singapore Women's Hall of Fame has inspired me to step out of my comfort zone and do things to make a difference to others. I don't have to aim to do great things; I can start with small things done out of love to impact those around me. The Hall of Fame has shown me that not only great men like Mr Lee Kuan Yew can leave a legacy – we women can make a difference too!"
– Claire Tay, Sec 2
"The Singapore Women's Hall of Fame has opened up my mind to think out of the box, that women can be just as successful as men. It has inspired me to pursue my dream of being a dancer and to believe that I can do anything with hard work, starting with a small step of determination. I feel moved by those women and more confident in myself."
– Kasey Quek, Sec 2