Welcome to the THE ORCHID GARDEN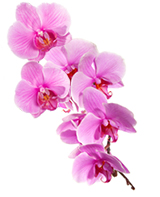 The Orchid Garden is a special space for tributes to the most important women in our lives. This is where you can share your story about the woman that has most inspired you – your mother or grandmother, a teacher, or perhaps a colleague or a national figure.
Also featured in the Orchid Garden are the women who have received awards in recognition of their achievements, their compassion, dedication and love.
You can pay tribute to the woman who has most influenced you in 3 words or 300 words. It's up to you. Or say it with a quote or a poem, and add your favourite pictures of her.
Purchase a space in The Orchid Garden for your tribute for just S$100. We will post your tribute within two working days. Once it is online you can choose to print out a neatly formatted version. From now till the end of May 2017, purchase a space in the Orchid Garden for your tribute at a special rate of $50, in conjunction with Mothers' Day!
Explore THE ORCHID GARDEN